References (specified below) can contain complete lines, parts of lines, single machines in a line or stand alone machinery.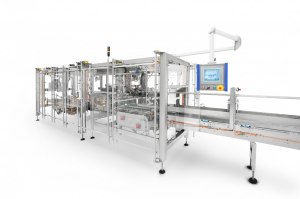 Arlafoods Sweden
Complete line existing of a FFS (Form-Fill-Seal machine) for yoghurt cups, 125 and 150 grms cutted by 4 cups. Multipacker put 4 or 8 cups in a wrap around carton (sleeve) and packed in a tray of 24 or 48 cups in a tray in 2 heights, transported to the palletizer. Beside of this we have installed 4 Meypack machines packing milk and yoghurt cartons (1 liter and 1.5 liters in a tray by 6, 10 or 12.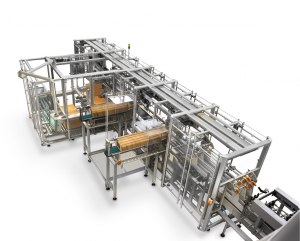 Altia Corporation (Finland)
At Altia Corporation we have installed together with Meypack 4 wrap-around packers with prefabricated partition inserters of the latest technology. The machines are producing inline and packing different sizes of bottles eg. vodka in formats of 6 or 12 bottles in a case. Meypack is very wellknown for their innovative, flexible solutions in combination with high efficiency and low maintenance costs. The last machine installed 2015 called "metro project" due to it's lenght and the many possible solution this machine offers.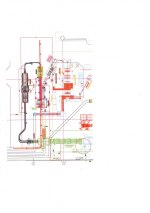 Tine Mejerier Øst BA in Oslo
Complete new line has just been installed at Tine mejeri Øst BA in Oslo, a new FFS (Form-Fill-Seal machine) for yoghurtcups of 100, 125 and 150 grms, the line can produce all from by 4 up to by 8 cups in combination with 1 up to 4 flavors. Multipack machine with even so many variations has been used from the old line, beside of that we have installed a new multipacker at the same customer with 8 different formats, all from singlelayer 4 pack up to dubbel layer 16 pack. This line has been installed with a very short installation time, day 4 we were able to run 92% efficiency on the line. The line has very high efficiency in combination with very low maintenenace costs, excellent pay back time. All project management and installation has been under responsability of Advanced-Packaging AB, together with our partners.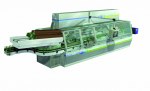 Carlsberg Finland and Sweden
In the Carlberg group we have installed several machines, in Finland there are 3 Aries multipacker machines one of them can produce roughly 54 different formats and has been installed with fully automatic change over facilities, maximum change over time is round 30 minutes. In Carlsberg Sweden we have installed together with our partner Meypack a wrap-around casepacker producing different bottles and formats.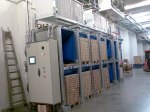 Tine Øst Frya in Ringebu
Tine Øst Frya in Ringebu close to Lillehammar in Norway, we have installed also 2 lines with FFS machines and Aries end of line, including multipacking as well traypacking machinery. Beside of that we installed last year also cooling cells from the French company Fromfroid to shorten the logitics and bring the products faster to the consumers. At the same time you can minimize the storage, as the products can be transported earlier towards the consumers.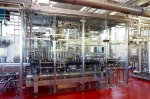 Vipoll is one of our partners we represent in Scandinavia.
A company based in Slovenian, but building filling machinery conform German quality, beside of this they listen first to the needs of the customers, in other words all their machinery are very customer oriented. Filling machines is the main production with high standards, but ambitious enough to do complete lines as well, for the beverage with carbonated or non carbonated products. But we do also machinery for spirits, edible oil and other liquid products. Vipoll developes fast, as they have some intersted patented solutions. Together with Vipoll and our other partners we create interesting concepts for complete lines.
Please see below the pictures (they can be increased in size if you click on the pictures) from a couple of references installed by Vipoll!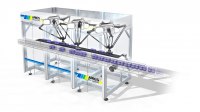 Here we will inform about our latest installed projects.
At Raisio (Non Dairy Factory) in Turka (Finland) we installed a complete packaging line with multipacker for single cups, the line was produced at Aries Packaging in Troyes (France) and has a high degree of flexibility it can pack loose cups in a tray with robotic cells but also multipacks from the multipacker into trays by robotic cells, either 5 loose cups in preformed tray or 5 multipacks in a proformed tray. More information will follow soon.
Uppdaterad 2016-01-21
New partner is Bünder&Schmitt, manufacturing special fillers and cappers for special application for pharmaceutical and detergent industri.
Further information will follow.
Uppdaterad 2016-01-21
We are pleased to receive your message if more info required!