On this page we will introduce and highlight every second or third month one of our partners, they have the posibility to inform you with news and possible innovations, we will shift this page every second or third month.
Uppdaterad 2011-01-15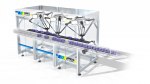 Aries Packaging (Troyes/France)
Aries Packaging has been founded in 1992 and started by 5 persons. Since than the company has been growing to the todays 120 employes. Manufacturing high quality sleeving equipment of the latest technology and "end of line" equipment. The main business has always been the dairy industry. The relation Advanced-Packaging AB/Aries Packaging has been existing since 2000. Aries Packaging has a marketshare in the dairy of 70% in Europe.
In Scandinavian we succeed to market 17 machines and/or lines.
The strenght of Aries Packaging is the way they building machinery, it is as a few customers express thenselves, "machines which have never trouble" or another customer, "we have only one problem, we do not know how we should do maintenance, because it is always running".
Since 2004 Aries Packaging belongs to the MeadWestvaco Group, but still acting as an independed company.
2010 we have installed a complete "end of line" at the Non-Dairy Plant of Raisio in Finland, this line is puting 2, 3 or 4 single cups in a sleeve. We have in the same line installed a flexpicker which puts single cups in a preformed tray and multipacks a preformed tray.
(Updated: 2011-01-15)